Return to Headlines
6.4.2020 District Technology Return
SDFA Families,
Thank you for participating in the 1Fort@Home virtual learning program. The district will be shutting off access to Chromebooks and Hotspots on June 9th. If you are not registered in district-sponsored summer school, all technology that was checked out from the district (Chromebooks, Hotspots, Chargers), will need to be returned at the Fort Atkinson High School (925 Lexington Blvd.) during one of the below dates:
Monday, June 15th, between 7:00 am and 6:00 pm
Tuesday, June 16th, between 7:00 am and 6:00 pm
*Please place the technology in a disposable bag in the trunk of your vehicle.
Enter the High School on Lexington Blvd and stop at the main entrance. Open the trunk of your car and remain or return to your vehicle. A district staff member will retrieve the technology. You can then exit on Campus Dr.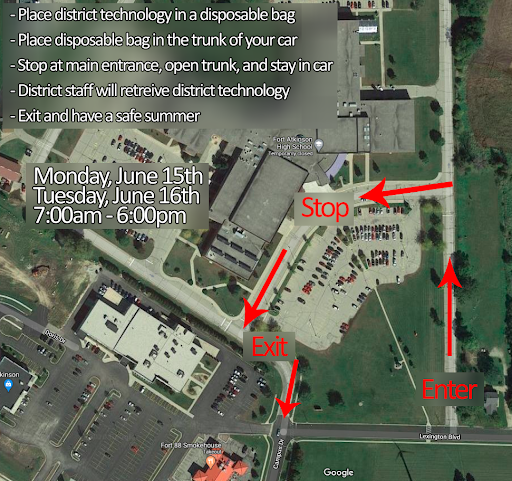 If you have any questions, you can email studentsupport@fortschools.org or call (920) 563-7820 option 3, leave a message, and someone will get back to you.
Thank you and have a wonderful and safe summer!
District Technology Department
---
Familias del SDFA,
Gracias por participar en el programa de aprendizaje virtual 1Fort@Home. El distrito cerrará el acceso a Chromebooks y Hotspots el 9 de junio. Si no están registrados en la escuela de verano patrocinada por el distrito, toda la tecnología que fue sacada del distrito (Chromebooks, Hotspots, Chargers), deberá ser devuelta en la escuela secundaria de Fort Atkinson (925 Lexington Blvd.) durante una de las siguientes fechas:
Lunes, 15 de junio, entre las 7:00 am y las 6:00 pm
Martes 16 de junio, entre las 7:00 am y las 6:00 pm
* Por favor, coloque la tecnología en una bolsa desechable en el maletero de su vehículo.
Entre en el instituto en el bulevar Lexington y deténgase en la entrada principal. Abra el maletero de su coche y quédese o vuelva a su vehículo. Un miembro del personal del distrito recuperará la tecnología. Luego puede salir en el Campus Dr.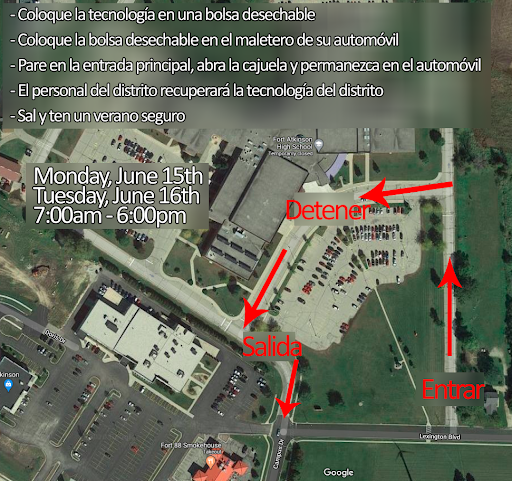 Si tiene alguna pregunta, puede enviar un correo electrónico a studentsupport@fortschools.org o llamar al (920) 563-7820 opción 3, deje un mensaje y alguien se pondrá en contacto con usted.
¡Gracias y que tengan un verano maravilloso y seguro!
District Technology Department