Return to Headlines
05.03.2021 Reflect & Reimagine - Feedback Requested
Good Afternoon 1Fort Families!
As you are aware, the School District of Fort Atkinson is in the midst of creating a new strategic plan. Like previous strategic plans, it is crucial to have all stakeholders involved in the process. Thank you to the 600+ people that engaged with our previous survey to assist SDFA with defining our district beliefs. We are now moving on to the next stage of the planning process which is Reflect & Reimagine.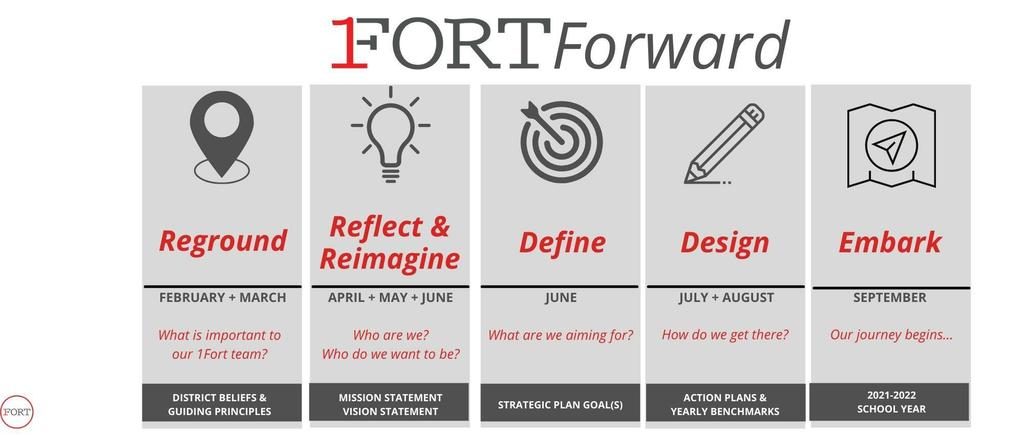 During this stage of the process, with the feedback gathered from the previous district belief survey, we will reflect on who we are as a district to help reimagine a new mission statement.
We are now asking for your feedback to assist us with determining who we want to be in the future. This will help the strategic planning team in reimagining a vision statement.
Please share your insight by completing this survey by 8 am on Monday, May 10th. The anticipated time to complete this survey is approximately 5 minutes. Your feedback is crucial in moving the School District of Fort Atkinson forward.
Thank you for your help!
---
¡Buenas tardes familias de 1Fort!
Como ya saben, el Distrito Escolar de Fort Atkinson está creando un nuevo plan estratégico. Al igual que los planes estratégicos anteriores, es crucial que todas las partes interesadas participen en el proceso. Gracias a las más de 600 personas que participaron en nuestra encuesta anterior para ayudar al SDFA a definir las creencias de nuestro distrito. Ahora estamos pasando a la siguiente etapa del proceso de planificación que es Reflexionar y Reimaginar.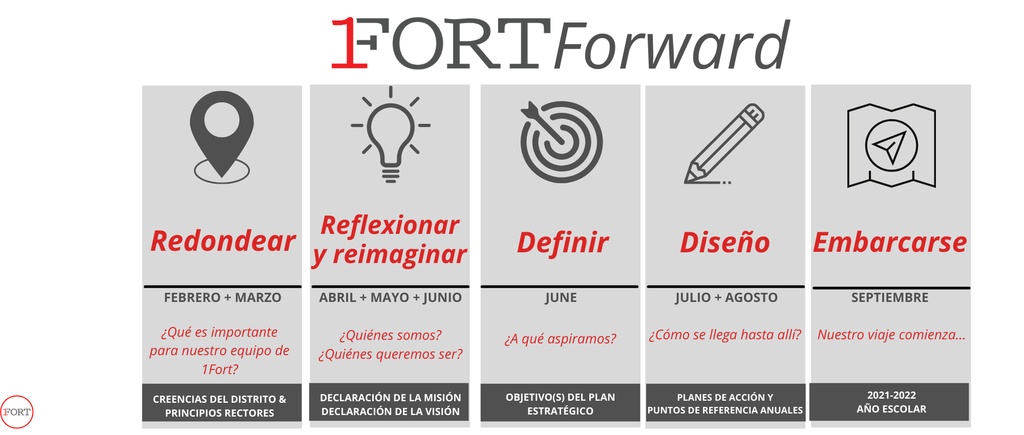 Durante esta etapa del proceso, con los comentarios recogidos en la anterior encuesta sobre las creencias del distrito, reflexionaremos sobre quiénes somos como distrito para ayudar a reimaginar una nueva declaración de misión.
Ahora les pedimos su opinión para ayudarnos a determinar quiénes queremos ser en el futuro. Esto ayudará al equipo de planificación estratégica a reimaginar una declaración de visión.
Por favor, comparta su opinión completando esta encuesta antes de las 8 de la mañana del lunes 10 de mayo. El tiempo previsto para completar esta encuesta es de aproximadamente 5 minutos. Sus comentarios son cruciales para hacer avanzar al Distrito Escolar de Fort Atkinson.
Gracias por su ayuda.
If you have questions, please email: communityengagement@fortschools.org