Return to Headlines
05.21.2021 Need Your Help - Searching For Summer School Teachers

Hello 1Fort Families,
We need your help in finding some new teachers to add to the 1Fort Summer School Team. The District is currently still seeking teachers for the following courses:
Design, Create & Sew Teacher (grades 3-8)
Mini-Kindergarten Teacher
Nature Explorers (grades 3-6)
The above courses already have students registered. Summer school runs 23 days from 8AM - noon, starting on Monday, June 21 through Friday, July 23 (no classes on Friday, July 2 & 5).
If you know of someone who might be interested in teaching, please let us know. We and the students would love to have you!
If you know someone not currently on the 1Fort team, please direct them to call the Summer School Office at 920-563-7802, summerschool@fortschools.org or encourage them to apply via WECAN. A DPI teaching license is required. The best new teachers come from referrals!
Thanks for helping us provide an awesome program to our students and community.
Sincerely,
Dave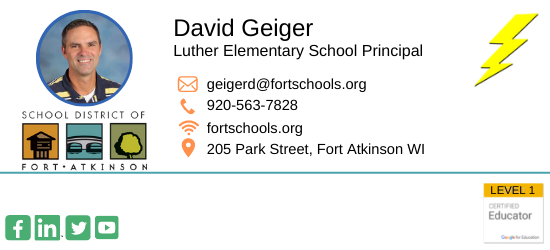 ---
Hola familias de 1Fort,
Necesitamos tu ayuda para encontrar nuevos profesores que se sumen al equipo de la Escuela de Verano de 1Fort. El Distrito sigue buscando profesores para los siguientes cursos:
Profesor de Diseño, Creación y Costura (grados 3-8)
Profesor de Mini-Kindergarten
Exploradores de la Naturaleza (grados 3-6)
Los cursos anteriores ya tienen alumnos inscritos. La escuela de verano tiene una duración de 23 días, desde las 8 de la mañana hasta el mediodía, comenzando el lunes 21 de junio hasta el viernes 23 de julio (no hay clases los viernes 2 y 5 de julio).
Si conoces a alguien que pueda estar interesado en enseñar, por favor, háznoslo saber. A nosotros y a los estudiantes nos encantaría contar con usted.
Si usted conoce a alguien que no está actualmente en el equipo de 1Fort, por favor diríjalos a llamar a la Oficina de la Escuela de Verano en 920-563-7802, summerschool@fortschools.org o anímelos a aplicar a través de WECAN. Se requiere una licencia de enseñanza del DPI. ¡Los mejores maestros nuevos vienen de referencias!
Gracias por ayudarnos a proporcionar un programa impresionante a nuestros estudiantes y la comunidad.
Sinceramente,
Dave