Return to Headlines
07.16.2021 No-Cost Meals Available All Summer

Good Afternoon 1Fort Families,
Once summer school ends on Friday, July 23rd, we understand that hungry tummies don't stop then. Our Nutrition Services Team is prepared to help!
Starting July 29, families will be able to pick up meal boxes, which contain enough breakfast and lunch items for a week's worth of meals! Thanks to the USDA nationwide waiver, these meals are NO-COST for all children under the age of 18 years of age.
How to get these meals:
Complete this quick and easy sign-up form so we know how many boxes to make
Watch your email for updates
Plan on picking up meals each THURSDAY at FORT ATKINSON HIGH SCHOOL
Pick up windows are 8:00-10:00 am OR 3:30-6:00 pm
If your child has a special dietary need, you MUST contact Christina Oswald at oswaldc@fortschools.org or (920)563-7811 ext.1159 to discuss.
Tentative pick-up dates:
Thursday, July 29
Thursday, August 5 (will receive 2 weeks of meals due to scheduled maintenance)
Thursday, August 19
If you have any questions, please do not hesitate to reach out.
Take care!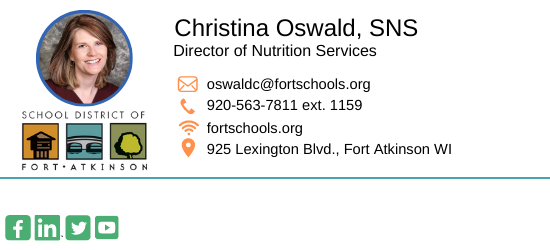 ---
Buenas tardes familias de 1Fort,
Una vez que la escuela de verano termina el viernes 23 de julio, entendemos que las barrigas hambrientas no se detienen entonces. Nuestro equipo de servicios de nutrición está preparado para ayudar.
A partir del 29 de julio, las familias podrán recoger cajas de comida, que contienen suficientes artículos de desayuno y almuerzo para una semana de comidas. Gracias a la exención nacional del USDA, estas comidas son SIN COSTO para todos los niños menores de 18 años.
Cómo conseguir estas comidas:
Rellena este rápido y sencillo formulario de inscripción para que sepamos cuántas cajas hay que hacer
Esté atento a su correo electrónico para recibir actualizaciones
Planea recoger las comidas cada JUEVES en la ESCUELA SUPERIOR FORT ATKINSON
Las ventanas de recogida son de 8:00 a 10:00 am o de 3:30 a 6:00 pm
Si su hijo tiene una necesidad dietética especial, usted DEBE ponerse en contacto con Christina Oswald en oswaldc@fortschools.org o (920)563-7811 ext.oswaldc@fortschools.org para discutir.
Fechas tentativas de recogida:
Jueves, 29 de julio
Jueves, 5 de agosto (recibirá 2 semanas de comidas debido al mantenimiento programado)
Jueves, 19 de agosto
Si tiene alguna pregunta, no dude en ponerse en contacto con nosotros.
¡Cuídense!