Return to Headlines
09.17.2021 Class of 2022 Homecoming District-Wide Celebration

Good Afternoon 1Fort Families,
Fort Atkinson High School's homecoming week is approaching with activities beginning Sunday, September 19th through Saturday, September 25th. The Class of 2022 invites the entire community to join in the homecoming spirit!
The theme this year is Under the Sea!
The Class of 2022 created dress-up days that can apply to students of all ages. Please find the list of dress-up days attached. If you would like to submit photos to our district Facebook photo album, please submit photos to the Homecoming Photo Form.
District families are also invited to participate in the following events:
Monday - High School Talent Show

Show begins at 7:30 pm, $1 entrance fee at Fort Atkinson High School Auditorium

Thursday - Movie Showing

Disney's Little Mermaid, 6:30 pm, Fort Atkinson High School Auditorium

Friday - Football Game vs. Baraboo

Game begins at 7 pm at Jones Stadium at the Fort Atkinson High School
We look forward to celebrating this important week with our entire 1Fort community!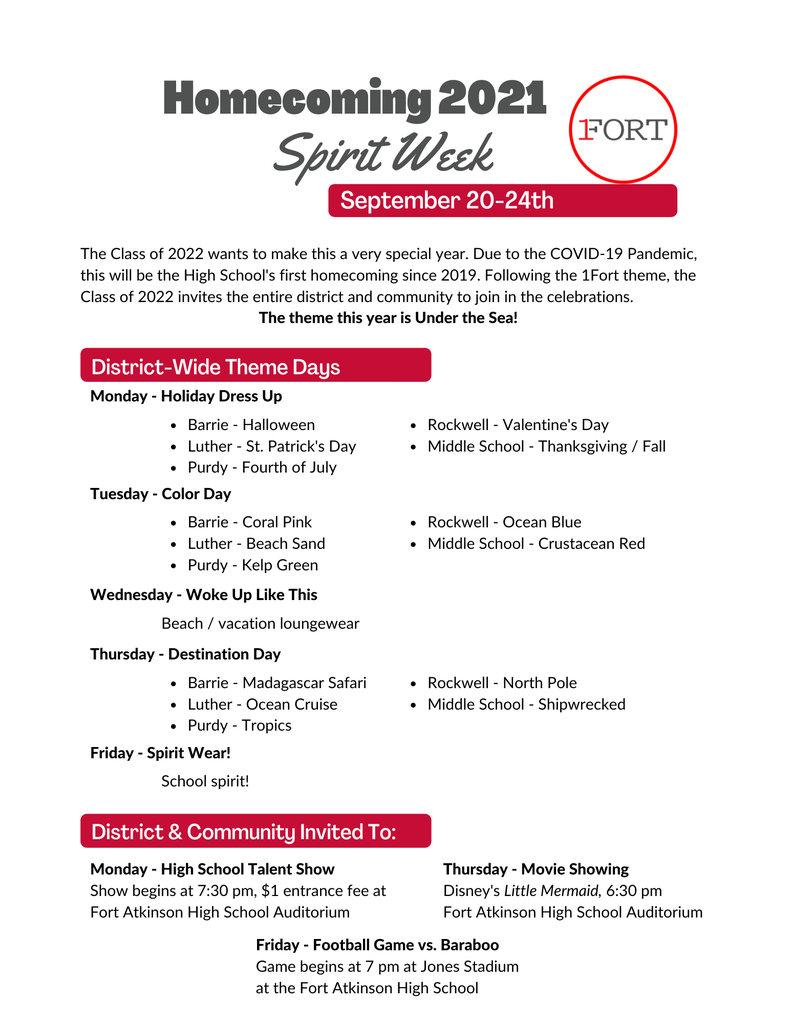 ---
Buenas tardes familias de 1Fort,
La semana de regreso a casa de Fort Atkinson High School se acerca con actividades que comienzan el domingo 19 de septiembre hasta el sábado 25 de septiembre. La clase de 2022 invita a toda la comunidad a unirse al espíritu del regreso a casa.
El tema de este año es ¡Bajo el Mar!
La Clase de 2022 creó días para disfrazarse que pueden aplicarse a los estudiantes de todas las edades. Por favor, encuentre la lista de los días de vestir adjunta. Si desea enviar fotos a nuestro álbum de fotos del distrito en Facebook, por favor envíe fotos al formulario de fotos de Homecoming.
Las familias del distrito también están invitadas a participar en los siguientes eventos:
Lunes - Show de Talentos de la Escuela Secundaria

El show comienza a las 7:30 pm, $1 de entrada en el Auditorio de la Escuela Secundaria Fort Atkinson

Jueves - Proyección de películas

Disney's Little Mermaid, 6:30 pm, Fort Atkinson High School Auditorium

Viernes - Juego de fútbol contra Baraboo

El juego comienza a las 7 pm en el Estadio Jones en la Escuela Secundaria de Fort Atkinson
¡Esperamos celebrar esta importante semana con toda nuestra comunidad de 1Fort!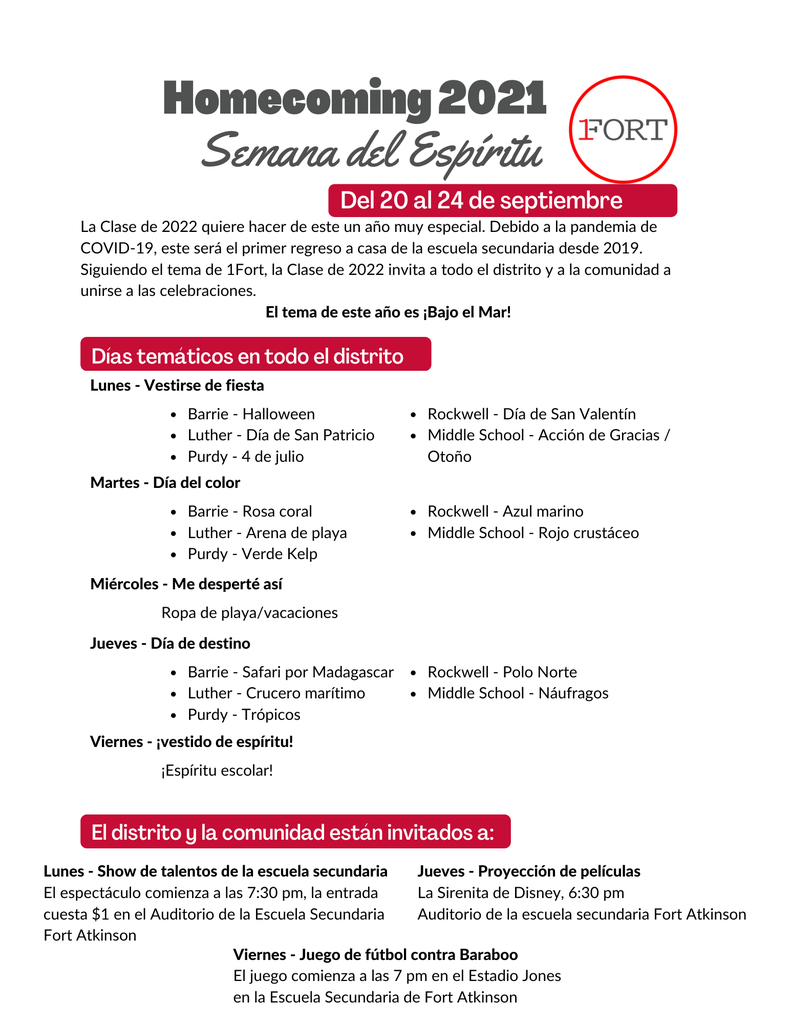 The School District of Fort Atkinson Board does not discriminate on the basis of race, color, religion, national origin, ancestry, creed, pregnancy, marital status, parental status, sexual orientation, sex (including transgender status, change of sex or gender identity), or physical, mental, emotional, or learning disability ("Protected Classes") in any of its student programs and activities.