Return to Headlines
02.19.2022 Need Your Input - Federal ESSER Funding

Good Afternoon 1Fort,
At Thursday evening's Board of Education meeting, a survey regarding the potential use of our federal COVID relief funds (ESSER) was shared. These funds are available to cover costs during the timeframe between March 13, 2020, through September 30, 2024. To learn more about this federal funding, please visit our ESSER Funding webpage.
While we will continue to monitor our student learning data and social-emotional needs to strategically leverage these funds through the 2023-24 school year to best support our students, for ESSER 3 our 1Fort story is still being written and we are looking for feedback from you to help us write it.
Please visit our ESSER Funding webpage to learn more about this federal COVID relief funding and share your thoughts through a survey on that page by February 28th.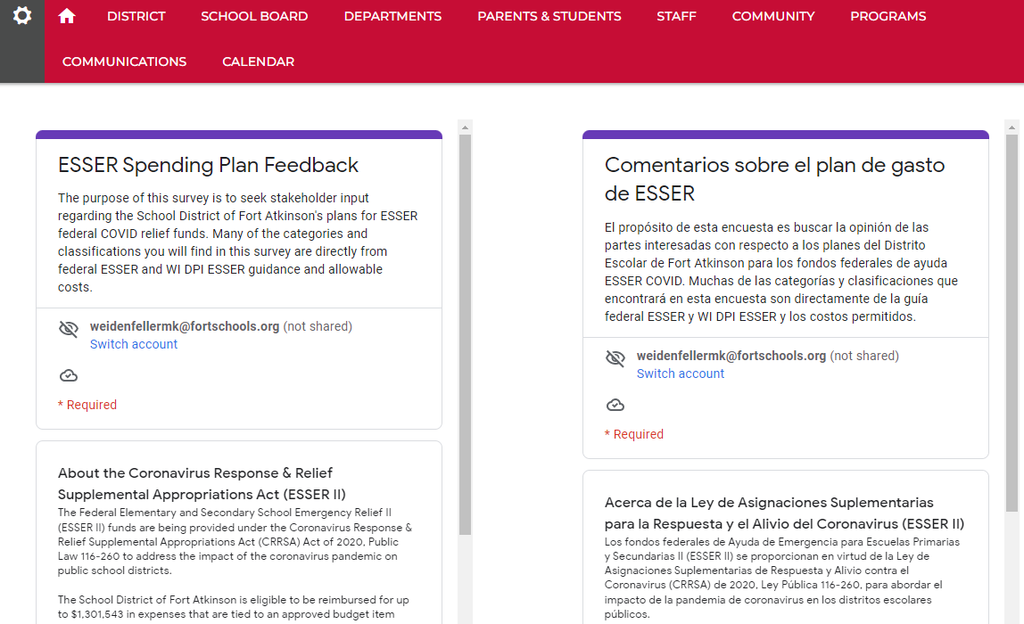 We look forward to hearing from you!
---
Buenas tardes 1Fort,
En la reunión de la Junta de Educación del jueves por la noche se compartió una encuesta sobre el uso potencial de nuestros fondos federales de alivio COVID (ESSER). Estos fondos están disponibles para cubrir los costos durante el período de tiempo entre el 13 de marzo de 2020 hasta el 30 de septiembre de 2024. Para obtener más información sobre esta financiación federal, visite nuestra página web de Financiación ESSER.
Mientras que continuaremos monitoreando nuestros datos de aprendizaje de los estudiantes y las necesidades sociales emocionales para aprovechar estratégicamente estos fondos a través del año escolar 2023-24 para apoyar mejor a nuestros estudiantes, para ESSER 3 nuestra historia 1Fort todavía se está escribiendo y estamos buscando comentarios de usted para ayudarnos a escribirlo.
Por favor, visite nuestra página web de financiación ESSER para aprender más acerca de esta financiación federal de alivio COVID y compartir sus pensamientos a través de una encuesta en esa página antes del 28 de febrero.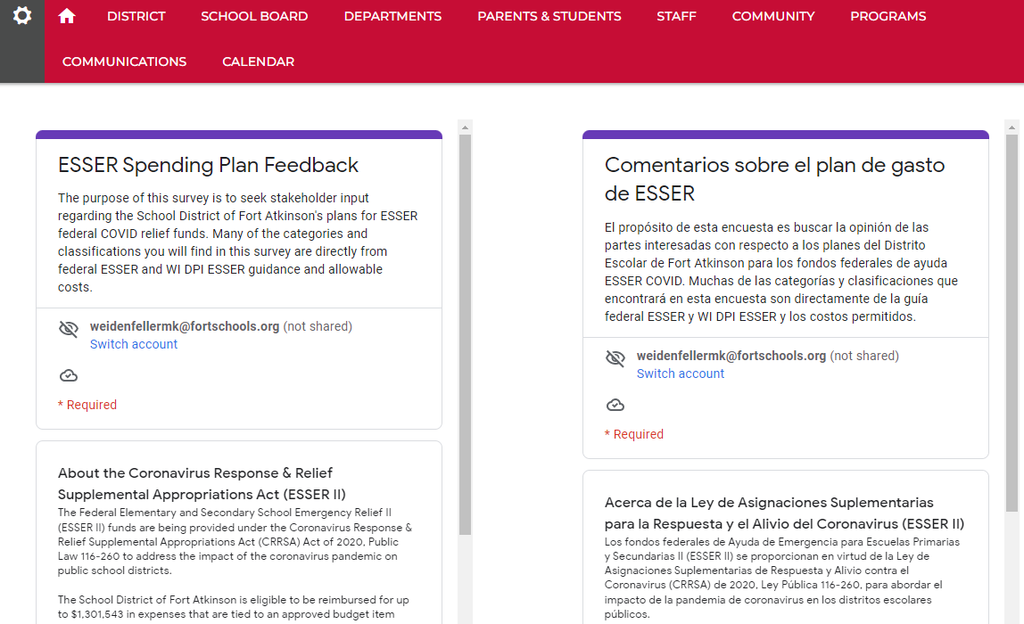 Estamos deseando escuchar su opinión.

The School District of Fort Atkinson Board does not discriminate on the basis of race, color, religion, national origin, ancestry, creed, pregnancy, marital status, parental status, sexual orientation, sex (including transgender status, change of sex or gender identity), or physical, mental, emotional, or learning disability ("Protected Classes") in any of its student programs and activities.